This site is my notebook for stuff I find on the web and that I find interesting.
After loosing a few years worth of bookmarks on the old Delicious service, then using Posterous for a few years, until they closed down… I managed to download an export of my content and imported (I intend to…) it here. (Update: I don't think I will ever get to importing those Posterous links, they were interesting, but time moves on and information decays…)
I decided not to use another free thumblog or bookmarking service, and instead host my own thing. I considered the use of a dedicated software for bookmarking, namely Shaarli. It's a good open source product, however, I found that sometimes I want to save more than just the bookmark, I want to be able to save some quote from the original site or some image. That 's where Shaarli doesn't quite fit my needs (it allows for tags and description).
I may also want to write something about something… For that I tried installing a wiki. After some digging I finally set with PmWiki, as it seems small, simple and secure. I found that it's also ramdomly slow and there are several comments on that around the web… so I stopped. Also, the editor, well it could be better…
Another thing is that the different products caused a visual framgmentation effect, I'd need to make matching skins for each one.
I must say that after searching a lot these 2 products were the ones that emerged, and think they are very good.
This site is just another attempt, I thought that maybe a WordPress site with "post types" and "tags" and the ability to quickly add "pages" may be the answer I was looking for all along.
Who am I?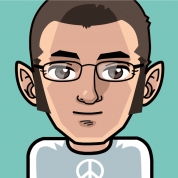 My name is Luís Osório and I'm more than a analyst/developer, but if you are looking for some professional trade, that's what I do. I have a part-time-freelance-web-design thing, you can check out at lof-design.com.
This is my non-comercial, non-social, non-nothing page.
The stuff I post here is for my reference, it's a personal log of findings, and while it's public for anyone to benefit from a semi-curated list, it does not pretend to be a regular blog with the goal of attracting visitors or achieve fame.
Enjoy your visit,
peace