Category Archives: Software
https://itsfoss.com/best-gnome-extensions/
http://www.bloomberg.com/graphics/2015-paul-ford-what-is-code/
Lately i have been making experiments by repurposing an old laptop.
I installed a Kodi linux that is an ubuntu + media center called KODI (used to be called xbmc).
It is working very well and plan to replace my living room hi-fi (cd-player, radio, tapes???) I set it up to rip a cd when inserted on the computer, so, digitizing my physical cd's will not be so hard (I hope).
To catalog the music, I plan on using Picard from Music Brainz
[Update] Maybe better, but for linux which is my main OS at home, I'll try beets.
While searching for this media center solution, i stumble upon a project that may be very cool if you like to make music instead of listening to it.  It's LMMS, and presents itself as a complete recording solution that works on linux, windows and mac.
Split movie files without re-encoding.
After searching for a while, ffmpeg, command line came out as the reliable way.
Here for future reference!
Also a link to a post where some subtleties are explained. Do check it if it's not working as you expected.
https://blog.yimingliu.com/2008/10/07/ffmpeg-encoding-gotchas/
The Conversation Prism is a visual map of the social media landscape. It's an ongoing study in digital ethnography that tracks dominant and promising social networks and organizes them by how they're used in everyday life.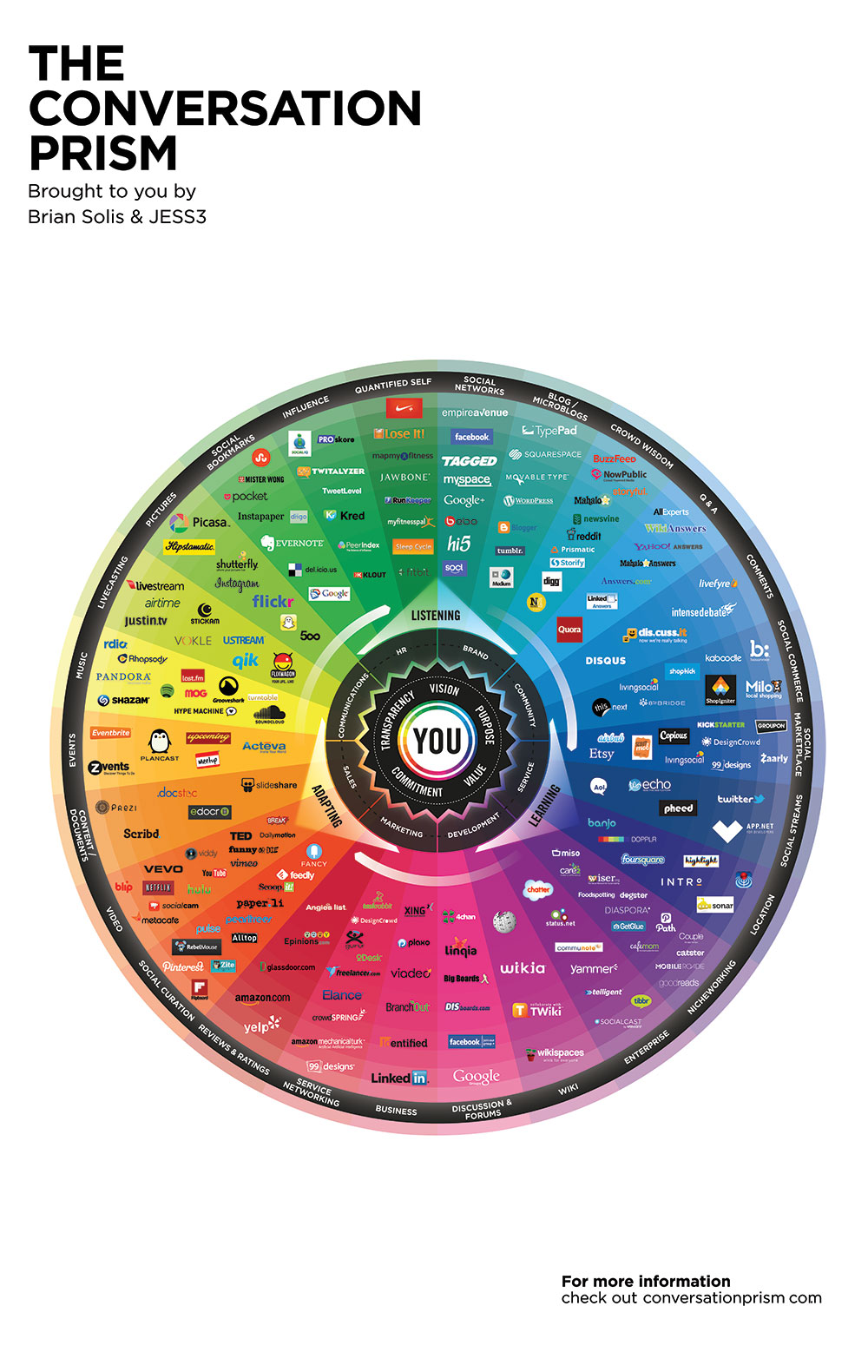 Download larger versions: https://conversationprism.com/free-downloads/
A New Kind of Instant Messaging
With the rise of government monitoring programs, Tox provides an easy to use application that allows you to connect with friends and family without anyone else listening in. While other big-name services require you to pay for features, Tox is totally free, and comes without advertising.